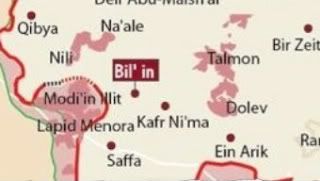 For those of you who have been following
my coverage of The Wall
this new development will be interesting.
Residents of the West Bank village of Bil'in protest the separation fence that divides their land every Friday. Back in September of 2007, the Israeli Supreme Court ruled that the route of the wall was illegal and that 1,700 meters of it should be removed. This ruling has yet to be followed.
Part of the delay has been caused by expansion of the Modi'in Ilit settlement nearby. The Supreme Court also ruled it is illegal to plan the route of the separation barrier based on constructions that do not yet exist, so it is believed by activists involved that Israeli officials are waiting until the settlement expansion is complete to draw up the new plans for the wall.
Possibly due to the continuing violence and unrest in Bil'in and similar villages, Israeli officials drew up a preliminary plan for the alternate route. However, Bili'n local council head Ahmed Issa Abdallah Yassin says this new route will only return 10% of the farmland taken from the village.
Yassin says this plan is only a delay tactic:
Yassin said that in the meantime, the state is allowing building developers to create facts on the ground and that in another two months time, "they will be able to debate new security stipulations that will be influenced by building projects which will by then be complete, leaving them "no choice" but to rework the fence with these developments in mind."
UPDATE:
In addition to rejecting the proposed route change, Bil'in is suing the Canadian firms that are building in the Modi'in settlement.
Haaretz says
:
The village claims the companies have been building in Israel's largest settlement, Upper Modiin, in violation of international law. The construction is taking place on land seized from Bili'in after Israel captured the West Bank in the 1967 Six-Day War, according to the suit. Among other things, the claim cites the Fourth Geneva Convention, which forbids an occupying power from transferring its own civilians into occupied territory.
Bil'in's attorney, Michael Sfard, says this is the first suit of its kind and calls for the halt of settlement construction and the removal of 30 buildings the company previously built.