Another transliteration. This sign is actually an English word phonetically spelled in Hebrew. This is fairly common here. In fact, English is so embedded in the vernacular that most people say "hello" and "goodbye" rather than "shalom." Most signs (especially storefronts) appear in Hebrew and English and about 25% appear in English only.
The English version: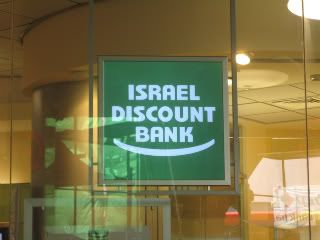 In other news about banks: the dollar has drastically dropped in value. It's down 25% since last year. The exchange rate is now hovering near 3.3 shekels per dollar. I just paid $12 for a bottle of Head & Shoulders.