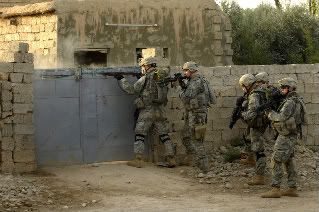 Photo by
soldiersmediacenter
.
This AP article
lists violent incidents in Iraq for the week, including a remote-detonated truck bomb, a failed suicide bomb attempt by a female Iraqi, and a raid led by the US in which Prime Minister Nouri al-Maliki's cousin was killed.
This last bit is the most interesting part because the US had previously agreed to hand over control of this area to Iraqi forces.
AP says:
Officials close to the prime minister said the killing enraged al-Maliki, who has been locked in negotiations in recent months over a long-term security agreement with the United States.

Al-Maliki demanded an explanation from the Americans, who promised an investigation into the incident, said the officials Sunday, speaking on condition of anonymity because they were not authorized to talk to the media.

Karbala Gov. Aqil al-Khuzaie said in a statement Saturday that the raid was a violation of an agreement signed with the U.S. last year that transferred Karbala to the control of Iraqi security forces.
This move may or may not have consequences for the US in Iraq. Nouri al-Maliki and his cabinet are working hard to destroy their image as Bush's lapdogs, beginning when they banned Blackwater mercenaries last September. And as they gain more and more control over their own security forces, the US will become more and more accountable for its actions.