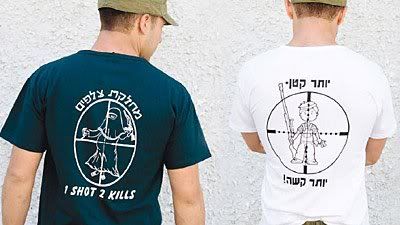 I have been ignoring this story since it started circulating around
the blogosphere
, and then onto
local news sites
, and then political commentators who are in the know. Now that it has finally reached
the AP
, I feel I would be remiss in my duty to you if I did not take note of it.
The long and short of it is that Israeli soldiers have been printing tshirts with slogans like "1 shot, 2 kills" paired with the image of a pregnant Muslim woman. An army spokesperson says the soldiers involved in printing the shirts and handing them out to graduates of basic training have been penalized.
The shirts "are not in accordance with IDF values and are simply tasteless," the military said in a statement. "This type of humor is unbecoming and should be condemned." The army said it would not tolerate such behavior and would take disciplinary action against the soldiers involved.
A small number of the shirts (probably several dozen) were printed for specific army training units.
Another story making the same laps is
the one about misconduct during Operation Cast Lead
. Ha'aretz has printed several stories about IDF soldiers saying they were ordered to shoot unarmed women and children, and that they followed those orders.
Some within the blogosphere
have called into question the validity of such statements, saying that the stories are only heresay and that even if they are true, each case resulted in tragedy because of Palestinian error, not Israeli malice.
Relevant to both stories, the AP has the following to say:
On Monday, the military chief of staff, Lt. Gen. Gabi Ashkenazi, defended his troops.

"I tell you that this is a moral and ideological army. I have no doubt that exceptional events will be dealt with," Ashkenazi told new recruits. Gaza "is a complex atmosphere that includes civilians, and we took every measure possible to reduce harm to the innocent."

Palestinians too have glorified attacks on Israelis in the past. In the Gaza Strip, Hamas-controlled media consistently send messages that Jews cannot be trusted and that Israel is a bloodthirsty, militaristic state eager to seize Palestinian land and slaughter Palestinian children.